NEWS
A Q&A with Gringo's new journalist
By Emma Lee Breton
7 November 2021
A new addition to Gringo Media, journalist Stef answered a few questions about herself and her passions.
Born in Colombia, and acing her Australian citizenship test just last week, Stef now lives on the Sunshine Coast and has firsthand knowledge of the greater Brisbane community.
When I asked what inspired her interest in writing and media, her response was passionate.
"Since I was little, I wanted to be part of the industry. I believe the reason why I wanted to be part of it so badly, is because it was the perfect excuse to connect with my family, friends and sometimes strangers...media has been a great way for us to participate in society."
"Writing allows me to create something meaningful, cohesive, and beautiful and, to connect with real people and places in amazing ways. I love writing! It is a great outlet for me to express things," she says.
Working in media also allows Stef to practice her personal goals of becoming a published writer, and eloquent influential communicator.
After asking her about her experience as a Colombian in Brisbane, she tells me a heartfelt story.
"Brisbane was where I landed in May 2015 after a 39-hour flight from Bogota... Since day one, I fell in love with the city and its people," she says.
"I always felt safe, which is one of the reasons why I came here. Brisbane means a lot to me. I've worked in most industries, and I have always been treated fairly and respectfully."
"I love how big the Latin community in Brisbane is, I've lived in Melbourne, the Gold Coast and the Sunshine Coast, and nothing compares to my Colombian community in this spectacular city."
Stef lists the things she loves about Brisbane - the art galleries, public transport, gardens, food and music, as well as the things that remind her of home.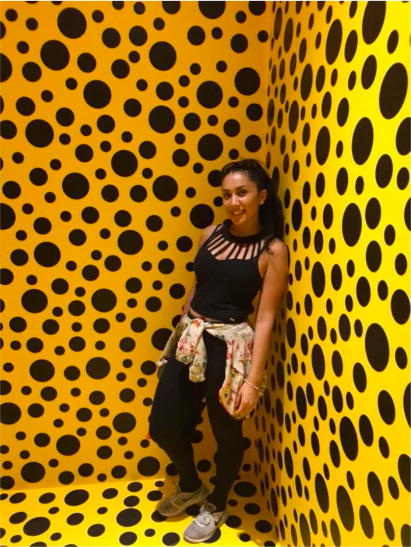 Stef at GoMA
"The Three Monkeys is a restaurant in West End which I love because it reminds me of the homemade food I used to eat in Colombian restaurants."
She also mentions the, "GPO in Fortitude Valley and their amazing contribution to the Latin Culture in Australia, hosting the Colombian Independence Day every year, Brazilian parties and many more events, as well as Streets Beach in South Bank and Latin Friday Nights Brisbane, as the "best outdoor "Rumba Latina" in Australia."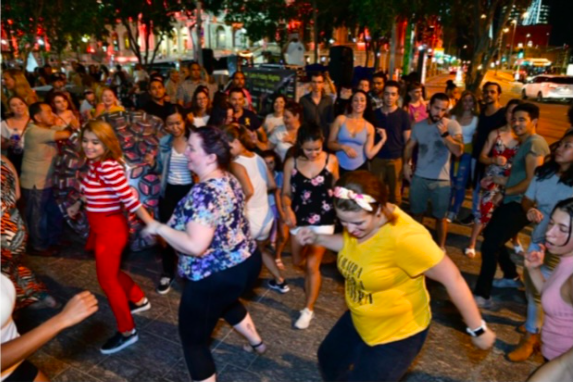 Latin Friday Nights photo by Bob Mcgahan
When asked why journalism is important in the modern day, Stef says that the freedom of speech it allows is integral.
Her favourite things to write about are real-life stories about the community and personal development as well as dabbling in drama.
When asked what the Latin community in Brisbane will look like in the next 10 years her answer is hopeful.
"We will all be successful, healthy, happy, and prosperous. We have a lot of good things in our culture that Australian's can learn from, and I believe in 10 years Australian's will have a bit more...Latin culture influence than ever before."
Aside from work Stef enjoys art and music and would like to try her hand at songwriting, as well as creating sensory rooms.
You can find her articles at Gringo Media.