NEWS
How WW1 shapes Australian culture 100 years on
Blank 26
By Emma Le Breton
19 November 2021
As Remembrance Day just passed, we're taking a look at how the ANZAC's continue to shape the Australian narrative.
Landscape, Memory and the Australian War Experience 1915-18, by Peter F Hoffenberg, focuses on many historic geographies linking to the themes of, space, place and culture. It focuses on the Australian landscape being a place, not only of physicality, but of memory -real and imagined. Themes of colonialism, post-colonialism, imaginative geographies, heritage and migration are all discussed, in relation to the impact of World War I, on the perceived identity of Australian country, cultures and ideals.
The experience of combat in World War I, changed the way that Australian's thought about nationality and place, and drastically changed Australian culture. Hoffenberg argues that Australian's have always had a special connection with their land, which is imagined, represented, and negotiated by settlers across space, generation and nationality. "[World War I] offered a radical departure for the Australians made comprehensible then and now by reference to that landscape; this was particularly so with combat on the Western Front and at Gallipoli on the Dardanelles, understood as a narrative of violence, war and catastrophe, both tragic and egalitarian". Throughout history, the Australian landscape has been collectively identified in memory as a place with a unique present and mythical past, anchored in the fantasy of migration to a seemingly 'new' land. The transitional element of space, place and nationality encompasses emotional baggage such as lived experience, labour, and purpose. The shared experiences and collective memories from migrants and Indigenous Australian's likens social groups to one another through a shared past and forms a national identity.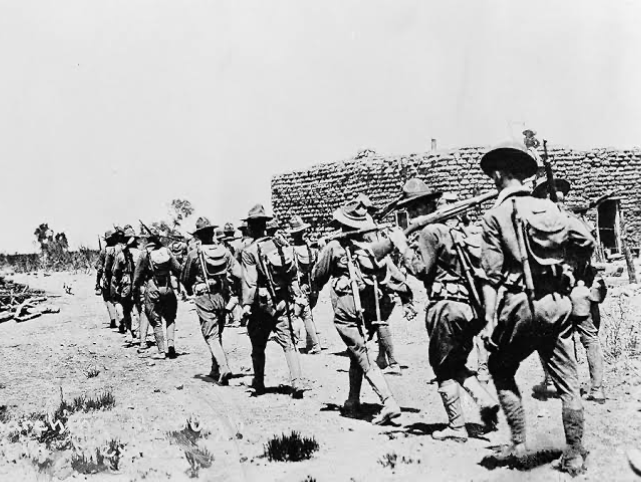 Photo of WW1 from Britannica
Imaginative geography is seen evidently in the Anzac narrative, as well as in the perceptions of migration throughout Australia's past.
Imaginative geographies focus on historical visualisations and interpretations of place and culture, usually far away and out of physical and quantifiable reach. These imagined places are rich in, and reflective of, personal truths, emotion, and stories, passed down through various narrative and art forms. Historian Kathleen Welsch describes history as a narrative, unable to be told without the added emotion of the storyteller. These imagined geographies develop and perpetuate place with a reflection of the self, hopes, and beliefs on a national and personal level. A prime example of this is the difference in the perception of temperate and tropical environments, perpetuated by imagined geographies. "Travellers in the tropics have often treated tropical nature as a foil to the temperate, to all that is civilised, modest, and enlightened". Often a sense of wonder and physical unattainability in the narrative reinforces the notions of these places with a sense of exotic difference. Many Anzac stories have this sense of imagined geography, evident in World War I through the narratives of Gallipoli and the Western Front. Here the post-war identity of Australian's and Australia as well as outsider perceptions, as being the land of 'diggers', mate-ship, heroism and strength were shaping the Australian narrative. Historical geographers, and war correspondents, such as C. E. W. Bean, who edited the works of over 150 soldiers who wrote wartime songs, poems, cartoons, jokes and diaries, into a book, further shaped this new narrative.
Imaginative history, loaded with emotion, often causes selectivity in history. The Australian First World War narrative positioned, particularly those on the front lines, such as soldiers and nurses, as taking the form of travelers, also represent the people and places back in Australia. This not only creates an imagined geography of war and Australian culture and heritage but is perpetuated internationally in the shared history of imagined Australian geographies, due to wartime representations of the nation whilst abroad. These imagined geographies aren't completely unfounded myths and tell historians, researchers and philosophers important truths and reflections about the time or event, despite not being based entirely on fact. Regardless, there are ethical complications in imagined geographies, such as presenting far away lands, cultures and people as primitive, savage or lesser, due to persistent imagined narratives around the exotic and oriental in the forms of story, photography and documentary.
Remembrance Day poppies photo from National Today
Heritage and nationality, are two fundamental themes, when discussing Australian place and culture, which were drastically influenced by World War I. The imagined geography of Australian heritage is a fundamentally evident theme in postmodern Australia. Heritage is another realm of imagined geography, where fact and truth come together to create a site of cultural and historical significance. War memorials, Gallipoli, Pearl Harbour and locations both iconic during World War I and in its remembrance are significant to Australian heritage. Heritage sites, although documenting history, are also profoundly based on personal truths and on the values of Australian's.
World War I, an event that encompassed Australian migrants from all over the world, gave a sense of collective heritage, history and identity to Australians. This is where landscapes of representation and imagination came together to form culture and identity. World War I certified a sense of place for migrants, including the vast population of European settlers, by reframing national identity collectively. Heritage and nationality often distill the past into icons of identity and belonging, not always representative of shared history. Moral arguments are also present about the perpetuation of these cultural representations. The effect of World War I's shaping of the national identity of Australia has systematically ignored history and rejected Australian Indigenous heritage before European settlement.
The rejection of Indigenous Australians in war efforts and their treatment upon return is often erased from the narrative and is one of the reasons for this forgotten heritage. This also lead to Indigenous Australian's being displaced within the new formation of national culture and identity. Indigenous Australian's were treated as migrants, which were not understood, and were feared. Australian identity and is continuing to be shaped by war as a tool for narrative. To this day new television programs, films and books are released retelling stories of World War I, one of the most influential cultural events, with modern-day narratives and goals. This distorts history, and creates new cultural identities, revealing social and political changes and truths.
Colonialism, post-colonialism and the links to Australian heritage and imagination are also evident as having been influenced by World War I and its narrative. Nature, culture, place and race have relationships to imagined geographies. Natural and biological clarifications are rejected and places are assigned racial meaning, both literally and metaphorically inventing race relationships to locality. World War I saw Australia move as a nation beyond its colonial representation, to a unique identity of a settled land, functioning as one, with common goals. This leads to a current contested culture between the colonised and colonising. Colonial knowledge has been shaped, especially through war, in the forgetting and disregard of indigenous Australians and their rights to place. Indigenous rights and heritage, have been overshadowed by colonial heritage and nationality. A prime example of this is the consistent disregard for Indigenous heritage sites, often considered primal and unrelated to the now common Australian narrative, which are paved over, removed and destroyed for arguably trivial colonialist infrastructure. Colonialist structures without religious or spiritual significance though, such as 11 convict sites, are UNSCO Heritage Listed. National identity founded by World War I has, in part, lead to manipulation of landscapes, furthering racism in political culture. Colonialism, has shaped every-day landscapes, especially those of cultural significance, and normalises itself in return. A quote expressing the colonial ideology of Australia, both before and after World War I, can be read in the article. "Myth-makers and soldiers found stunning similarities, and sometimes even mirror images, in those distant land- scapes. Both were new lands to be claimed, whether the vast open spaces of the southern continent or the Great War battlefields of Western Europe and the Near East. The latter two were described as overseas Australian Outbacks". Words used to imagine the geography of Australians in war, such as diggers, mates and larrikins, creates new connections between the past and the present changing how colonialism was viewed, or not viewed in Australia.
The effect of World War I on Australian geographies has had an incalculable impact on the national identity of Australia. World War I saw the repositioning of the Australian identity both nationally and internationally and highlighted racial injustice at the same time as separating Australia's entanglement with a colonial image. The heritage and nationality of modern Australia are significantly shaped by imagined geographies in Gallipoli, Pearl Harbour and on the Western Front. War gave migrants a shared identity and built the culture of post-colonial Australia. Moral and ethical issues are raised about the current narrative of World War I and post-war Australia, in relation to its representation of Australian heritage, and its impact on the lives of Indigenous Peoples.