NEWS
Limited vaccine exemptions for Queenslanders
By Emma Le Breton
13 November 2021
COVID-19 vaccination exemptions have been released, for temporary and permanent exemptions to the COVID-19 vaccine.
The exception policy is strict and finite, allowing only permanent exceptions for previous anaphylaxis to the vaccine or vaccine component, or significant immunocompromise (live attenuated vaccines only).
These are the only two boxes on the exemption form that allow for permanent vaccine exemption, whilst temporary exemptions can be given for acute major medical illness, significant immunocompromise of short duration (live attenuated vaccines only), or pregnancy (live attenuated vaccines only).
If applying for a temporary exemption an end date must be provided.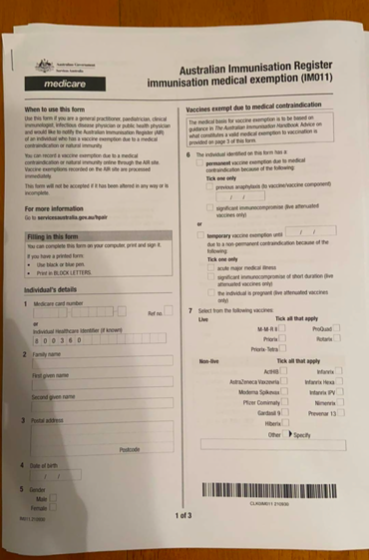 Exemptions, photo by: Sophie Jones
These exemptions do not allow those with anaphylaxis (medical or otherwise), mild immunocompromise or mental health reasons for not being vaccinated, to be exempt.
This puts those with allergies at risk of anaphylaxis with no way around it, except for taking one dose and preparing for the outcome to be exempt from dose two.
This poses significant physical and mental health risks to members of the community, despite vaccinations lowering the rate of COVID-19 hospitalisation.
With the exemptions being released many Queenslanders are feeing overlooked as collateral damage, to regaining a sense normality in society.
This news comes after a well known Brisbane doctor announced his resignation for December 15th, due to his refusal to be vaccinated, for not wanting the novel elements in his body.
The doctor described the exemptions as cruel and almost impossible to receive, even if applied for with the illnesses stated on the form.
As COVID-19 cases decrease in Queensland and life goes back to a new normal, the result of a largely vaccinated population with open borders is still to be seen, but many remain hopeful of the outcome.
If seeking a medical exemption to the COVID-19 vaccine please contact your local doctor.
If anything in this article has caused concern, please reach out to the below services through phone, text or online message.
There is always hope.
Lifeline: 13 11 14
Beyond Blue: 1300 22 4636 Kids Helpline: 1800 55 1800