NEWS
Salgadinho Australia live tour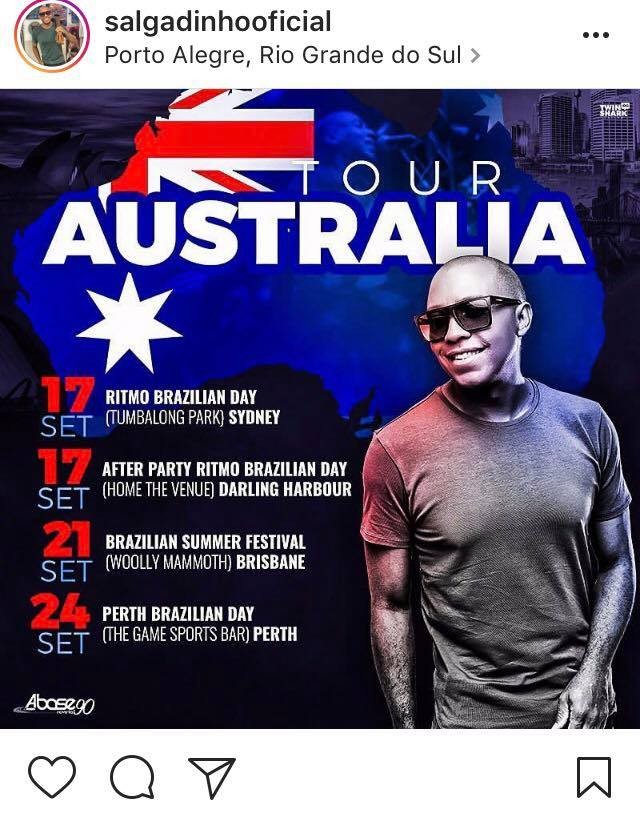 lblooiob
20 of September 2017
By: Kristy

Salgadinho, one of the icons of the Brazilian samba, is on his way to Australia for the first Australia Tour 2017. The singer became famous in the 1990s and 2000s when he was part of the group Katinguele.


He has so many good hits that he will bring to the Brazilian community in his shows.
He is also a song-writer and wrote the songs "Inarai"and "Recado a minha amada (Lua Vai)", his most famous hits.


One of his albums went Platinum with over 500 million copies sold.


Salgadinho will perform two shows in Sydney (Ritmo Brazilian Day and After Party, 17th Sept), one in Brisbane (Brazil Summer Festival , 21st Sept) and one in Perth (Perth Brazilian Day, 24th Sept).
Through his Instagram account he said "Hello my friends in Australia, this week I'm leaving for my exciting tour with you.
I'm waiting for you to sing with me." The public expectation is also huge and the shows will surely be an unforgettable experience.