NEWS
Stradbroke Island Minjerribah
By Stef LZ
22 November 2021
The traditional owners of North Stradbroke Island, the Quandamooka people, say they hope it will soon become better known by its Aboriginal name of Minjerribah.
Though there are so many great places to visit in Australia, it doesn't get much more beautiful than North Stradbroke Island or known by its traditional owners as Minjerribah.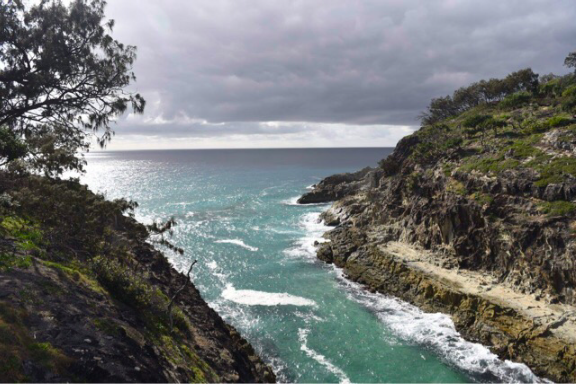 I've been lucky to have visited 'Straddie' on a handful of occasions now. When my Mum visited from Colombia, Straddie was her favourite place. And if I had to pick, it's probably mine too.
Located a short 30-minute drive and 25-minute water taxi ride East of Brisbane.
There are a couple of options and different ways of experiencing the island. If you have a car and a bit of spare cash, I'd suggest catching the car ferry. It is roughly $160 return and that way you have a car to explore the many beautiful locations on the Island such as Point Lookout, Blue Lake, Brown Lake, Amity Point and much more. The roads are suitable for small cars and we just take our small sedan which is more than enough as the roads are really good. However, if you have a 4WD, even better. There's great 4WDing on the island.
If you don't have a car, that's completely fine, too. The water taxi runs regularly and is roughly $20 each way.
The car ferry and water taxi will bring you to Dunwich. There are buses running on the island for people without a car. Whether driving or riding the bus, be sure to take in the beautiful scenery as you make your way around the island.
Accommodation varies and suits everyone's preference and budget. Everything from camping and glamping to staying in an apartment or air BnB. There's plenty to choose from.
Straddie is home to a whole lot of wildlife. There are plenty of dolphins to see and two of the best locations to get a peek of them is from Amity Point jetty or the Point Lookout Gorge Walk. You'll also find massive rays and turtles if the weather suits.

Keep your eyes peeled when looking up because there are lots of koalas living in the big gum trees.
I highly recommend Point lookout in the afternoon to catch a peek at the many kangaroos feed and relax on the mountain tops. The stunning scenery and wildlife make for some great photos.
Blue and Brown Lake are within a short distance of one another. Blue lake is roughly a 2km walk from the car park. The walk is more than worthwhile and blue Lakes beauty will take your breath away. A beautiful freshwater lake nestled into the surrounding bushland.
Brown Lake you can drive right up to. Different but just as beautiful as Blue Lake. Here you can cool off and take a relaxing swim.
Straddie also boasts some great surf spots for surfers.

Be sure to pack a hat and sunscreen. And definitely don't forget your camera.
For more information visit: https://stradbrokeisland.com/
Always take care and follow the safety signage. Swim in designated swimming areas and with a friend. And if unsure of anything, ask a local.
Have fun!