NEWS
Twilight Vegan Markets Sell Out in Brisbane
31 August 2021
By Valeria lasso

The Vegan Twilight Markets at the Mount Gravatt show grounds were a HIT. On the night of August 27th, the markets opened their doors to the public at 5 pm only to mostly sell out within three hours of opening.

The event was widely advertised on their Facebook group, promising the public a variety of vegan food stalls and more vegan, sustainable, and ethical shops. On the night of the event, their official page counted with 300 people who said they were 'going' and over 2.6k people who marked 'interested'.

One thing is for sure, and it's that the place was booming with people, of all shapes and sizes, from many different backgrounds. Different languages could be heard across the different booths, even Spanish.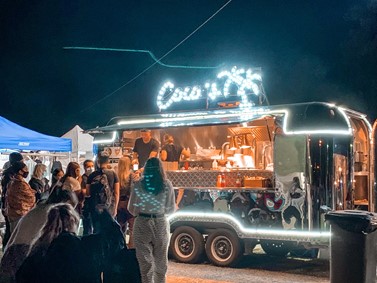 Although the Vegan Markets take place in West End every fortnight in the morning, these Twilight markets presented the public with a fun new option to experience their magic at night. The vibes were high, the people were friendly and their excitement was evident as they received their food.

There were over ten food booths and a few other booths selling clothing and other daily-use sustainable products. There was surely something for everyone. From fake meat burgers and nuggets to a full plate of hearty authentic tacos. There was Mexican food, Italian, Asian, Turkish and much more. If the delicious savory meals were not enough, a few stalls also sold some delicious-looking treats, cakes, ice cream, and even doughnuts to make sure people had their sugar fill for the day.
The turn up was probably higher than expected and as a result, the stalls were selling out well before the finishing time for the event. A few disappointed and hungry faces lingered towards 8 pm as the stalls started putting out 'sold out' signs.
Lara Whitlock, a 19-year-old university student, said she 'arrived a little too late so the lines were long and by the time we arrived at the front of the line they had sold out,'.
For future occasions, the recommendation is to arrive early and with an empty stomach so you can try all the delicious food on offer. Even if you are not vegan, this event is a great opportunity to try something new, make new friends, lay out a blanket, and watch the sunset while you enjoy some tasty food.