NEWS
Brazilian company opens an unprecedented solar power plant in Latin America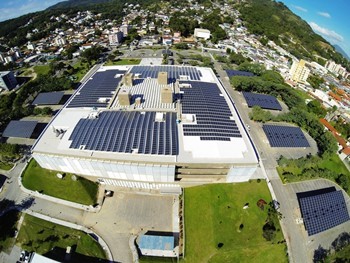 07/08/2014
The Brazilian company Eletrosul inaugurated the first solar power plant at the end of June. It was installed in a public building in the country side. With capacity to serve about 540 homes, the project is also the largest of its kind in Latin America.
The area is equivalent to two football fields and is completely covered with solar energy capture cards; the Megawatt Solar Power Plant should produce 1.2 megawatt-hours per year. The center of clean energy is on the roof of the headquarters of the company in Florianópilis (SC).
The Megawatt Solar Project was a partnership with the German government, which holds a third of the global solar market. The German development bank KFW has financed the venture - the total investment was U.S. $ 9,5 million. The Federal University of Santa Catarina (UFSC) and the Institute for the Development of Renewable Energies in Latin America (Ideal) also contributed with technical support.
By Deise Cavignato