NEWS
Thinner, wider and faster iPhone 6 to be released later this year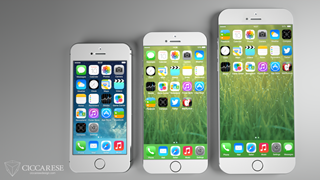 Leaked evidence points towards a new and entirely upgraded iPhone 6 to arrive later this year.
The release will be a relief to consumers that did not want to simply purchase the updated versions of the iPhone 5 last year.
Pictures provided by the Australian blogger Sonny Dickson indicate that the iPhone 6 will possibly be nearly as large as the Samsung Note 3. Featuring a 5.5-inch display, the iPhone 6 'phablet' will finally satisfy those consumers preferring a wider screen.
A smaller version of the iPhone 6 sporting a 4.7-inch screen will also likely be released to continue pleasing those customers favouring a pocket-friendly smartphone.
The predicted features of the device include a more resistant crystal front glass, a resolution closer to a full HD display and an improved camera. The much anticipated iOS 8 will be used to run the device.
The two models will also likely boast a thinner aluminium body, thanks to recent improvement in LED backlight technology.
There is much anticipation as to when the iPhone 6 will be released – it is very plausible that the 4.7-inch version will come out this September. September has been Apple's preferred month for all of its iPhone releases in the past two years. Further, it also appears that Foxconn has recruited 100,000 employees to produce the new device.
As for the 5.5-inch device, consumers may have to wait longer. Appearing complications in the manufacturing of the model could slow the date of its release.
It is expected that Apple will remain true to its pricing strategy and offer the premium iPhone 6 at a premium price.