NEWS
Luis Suarez: An 'accident waiting to happen'
08/15/2014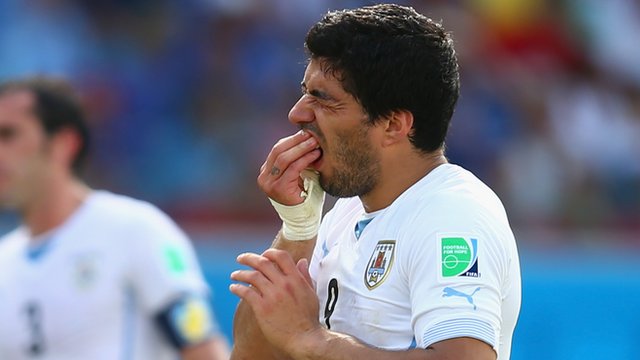 Luis Suarez is "an accident waiting to happen". We all think that the best that
Liverpool could ever do was to sell the footballer.
We must remember that the Uruguayan is serving a four-month ban for
biting Italy's Giorgio Chiellini at the World Cup. The 27-year-old, who will
discover the outcome of his appeal against that ban on Thursday, has joined
Barcelona for £75m in the summer.
"I can't say that I'm sorry to see him go," Premier League chief executive Richard Scudamore said.
Suarez was voted player of the year by both the Professional Footballers' Association and the Football Writers' Association last season
after scoring 31 goals in 33 Premier League games for the Reds.
Scudamore, speaking at the official launch of the 2014-15 Premier League season, said: "At the end of the day, he's a great player and
I'm not taking anything away from his talents.
Luis Suarez has a long history of controversies, among those:
June 2014 - Banned for 4 months – Biting Italy defender. The longest ban in World Cup´s history
April 2013 - 10 game ban – Biting Chelsea defender
Dec 2011 - 8 match suspension & fined $40,000 for racial abuse to Manchester United player
Nov 2010 - 7 match ban for biting on the shoulder at Ajax player
He is a great player, he was voted by his own players and the media last year, the player of the year and he deserved it. But
unfortunately, with him is an accident waiting to happen as people are always waiting for the next thing to come along.
Although the recent ban didn't happen while playing for the Premier League, it happened while playing for Uruguay on the World Cup,
Liverpool could be affected seriously as it is one of the greatest football clubs.
Suarez has argued the terms of the ban were excessive and an appeal hearing took place at the Court of Arbitration for Sport last
week. His legal team has argued that he should be allowed to train during his suspension and that the ban should be limited to
international football. The verdict will be released on Thursday, with the detailed reasons for the decision published at a later date.
By Adriana Rueda
Source: BBC Sport Football
Image: BBC Sport Football