NEWS
UFC 193 Ronda Rousey vs Holly Holm
Thursday, 22 October 2015
By Carlos Bocanegra
Search:
The next Saturday November 15th, one of the biggest sports events is going to be held in Melbourne, Australia at Etihad Stadium. Ronda Rousey (Rowdy) will be defending her bantamweight title against Holly Holm (The Preacher's Daughter) in the UFC 193. This event between the two North American fighters is expected to set a new record on public attendance with over 60.000 people predicted.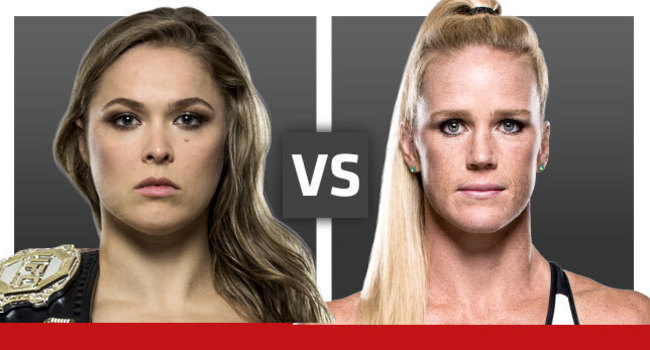 Source: http://s3.amazonaws.com/assets.ufcvipexperience.com/assets/image/692/650x350%2523/UFC-Home-Page-Slide-UFC-193-Main-Card-Fight-UFC-VIP-Experience.jpg?1441915271
Ronda Rousey is known by her outstanding takedowns and submission skills, having won 12 times since her debut in the UFC in 2013. Nine of these victories have been via armbar submission and three via KO. In addition she has been an Olympic medallist in judo and remains undefeated.
On the other hand, Holly Holm is known by her kickboxing background. She has won 9 times since her debut in the UFC, six of them by KO and three by decision. On top of that she has ranked as number 1 in many boxing organizations and different weight classes, also she posses multiple world boxing titles.
Anyway this is going to be one of the greatest fights for both fighters and supporters. Furthermore this fight seems to be a great opportunity to see an astonishing fight with the perfect combination between striking and grapping.