NEWS
A-LEAGUE VS LA LIGA: Málaga FC visit Socceroos Adelaide United and Perth Glory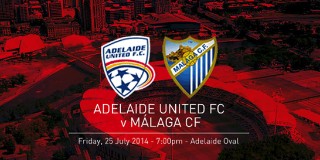 07/07/2014
Adelaide United FC has confirmed this week they will face Málaga FC in an exhibition game. The match will be played on Friday, 25th of July at Adelaide Oval as part of the 2014 LFP World Club Challenge.
Málaga, known as Los Boquerones, will be hitting the shores of Australia for the first time in its 110-year history It will also be the first a match of this caliber will be played at the refurbished Adelaide Oval, new world class stadium in the city.
"Málaga is the sixth most watched Club in Spain and its recent performances in the UEFA Champions League are testament to the quality of this side. Adelaide is fortunate to be able to welcome a Club of this stature to play", Adelaide United Chairman Greg Griffin says.
"It's a great opportunity for us and for the football fans of Australia, because a team from La Liga is coming, and this league is one of the best in the world" recognised spanish Adelaide United coach Josep Gombau.
But this is not the only match that the Spanish team will play down under. Also Perth Glory was pleased to announce that they have reached agreement with Málaga CF to play with them in a pre-season match. In this case the game will take place at Nib Stadium on Sunday 27th of July.
The matches, in celebration of the 85th anniversary of La Liga, will involve some of Spain's top teams challenging top local opposition in Europe, South America, North America and Asia as a framework of a global "Spain Experience" to promote the worldwide values of football and Spanish culture.
Sources:
http://www.footballaustralia.com.au/adelaideunited/news-display/Adelaide-United-FC-v-Málaga-CF/91032
http://www.footballaustralia.com.au/perthglory/news-display/glory-to-face-la-liga-test/91068
https://twitter.com/EmbajadaEspAust
By Santiago Ivar