NEWS
Good Australian representation at Wimbledon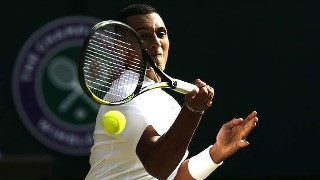 Amazing match against Nadal in London

Nick Kyrgios defeat world number 1 in the quarter-final at Wimbledon and surprised Spanish contendor. With just 19, Australian Nick Kyrgios has been the big surprise of the Grand Slam Wimbledon 2014.


In the quarter-final of the traditional British tournament, the young, 144 in the ATP rankings, defeated none other than the world number 1, Rafael Nadal, 3 sets to 1 the partial 7/6 (5), 5/7, 7/6 (5) 6/3.
In the bargain, he even made a sensational move against the Spanish and drew applause from the crowd on center court of the English grass.
Nick Kyrgios celebrate his point aganist Rafael Nadal in Wimbledon Photo Reuters
After winning the first set 7/6 (5), the second Kyrgios empatava for 3-3 when Nadal pulled out, he returned the ball, and after the attack Miura Bull, the Australian returned with targeted bounced through the legs, "see photo below" that leave the opponent without action. The crowd applauded too, and the boy celebrated with open arms.



Nick Kyrgios defended point over his legs aganist Nadal
Now, the Australian Canadian Milos Raonic faces the quarter-final, after defeating the Japanese Kei Nishikori.
By Fernando Godinho
Sources; globo.com