NEWS
Copa America final defined: Argentina x Chile
Friday, 24 of Jun 2016
By Pedro Carrion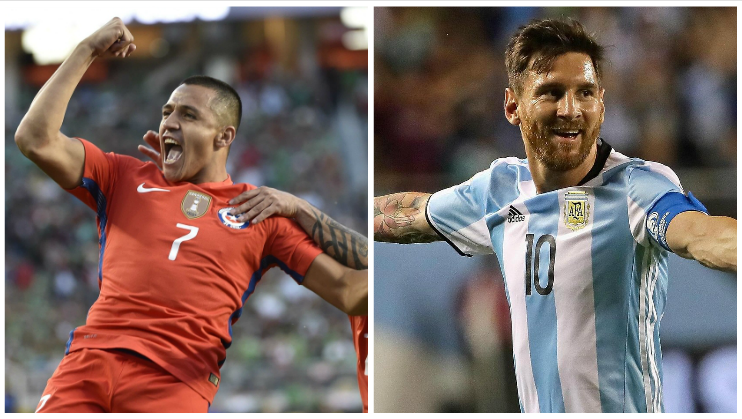 Neither the storm nor the crowd could prevent Argentina and Chile to get into the finals of this historical Copa America Centenarian. While the last World Cup finalist eliminated all the chances of the house owners of making a miracle after controlling the whole match, the Chileans just needed 10 minutes to stop the Colombian squad of reacting the score 2 to 0.
EUA 0 x 4 Argentina
There was a big expectation around the first game of the semi-finals. The American team finally got into this stage after 21 years, still dreaming of winning this special centenary edition at home. However, there was also a big fear between the Americans of the Argentinian team, mostly because of one outstanding little man called Lionel Messi.
And it took only 90 minutes to him justify the fearless of the American nation. Despite the support of the crowd, that filled the stadium completely with the United States flag colour, Messi showed one more time why he is considered the best player of the century, scoring in one unbelievable fault shot and giving two assistances to his teammates.
The result? 4 x 0 in a match that only one team could play, while the other saw their strategy of playing for one ball be ruined after the first goal, with three minutes of ball rolling.
Chile 2 x 0 Colombia
In the other side, the discrepancy between both teams was much less evident. Colombia and Chile came to the semi-finals with two organized teams that recently have been proving their world-class level, with lots of players playing in the best teams of the world.
However, the difference between them that may have defined the finalist was about the moments of their squads, which were trending in opposite directions. Chile came to the semi-finals after smashing Mexico with seven goals, in the other hand, Colombia needed penalties to get past Peru.
It was visible that the Chileans were confident and more prepared to get to the final since the beginning. No wonder that in 10 minutes they had already scored two goals, making the Colombian task almost unachievable. To make matter worse, a big storm forced the referee to break off the game that helped to cool down a Colombian reaction, which was starting to draw in the end of the first period.
After one hour of standstill, the second-half started balanced, with both teams disputing a lot in the middle-field, but with few shots and score chances. The Chileans got to Copa America final for the second following time, while the Colombians stopped one more time in the eliminatory stages regardless of presenting a good football.