NEWS
Crocodile attacks zookeeper in feeding show at Shoalhaven Zoo, New South Wales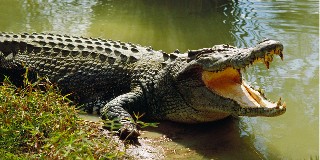 07/10/2014
A zookeeper has been attacked by a crocodile during a feeding show at the Australian Shoalhaven Zoo during a feeding show. Trent Burton, 31 years old, managed to break free after the 3.7 metre male reptile grabbed him by the teeth and dragged him into the water. The zoo is around 160km south of Sydney, off the coast of New South Wales.
Fortunately, Burton could escape and save himself of a serious damage. The patient was "pretty calm, and just had a couple of holes in his hands, but seemed fine" declared paramedics. He seemed more upset with himself that it had actually happened," he said. The zookeeper could walk himself to the ambulance.
"He told us his first hand had been bitten, he had fallen onto the concrete and was dragged into the water and then he shoved his other hand in its mouth to try and free his trapped hand."
Paramedic Hamdorf said. The patient needed just a few stitches to seal the wounds.
Burton was performing one of the regular crocodile feeding shows at the zoo at about noon on Monday, when crocodile John grabbed him by the hand and dragged him into the water in the enclosure in front of horrified spectators.
Some of the witnesses said it was the scariest thing they had ever seen in her life. "I've seen them in the wild, lying on river banks and have seen them at Steve Irwin's Zoo, but never like this. It was too scary" declared a woman.
Nick Schilko, owner of Shoalhaven Zoo, said Burton had been with the zoo working with the crocodiles for more than a decade. "Of course we are disappointed the attack happened, but thankfully it doesn't appear to be too serious," he said. "It's an attack and that is serious, but thankfully the injuries aren't life threatening".
"Big John has been a resident of the park for more than 10 years and along with his female partner, Dawn, they were named after the former owners of the zoo, John and Dawn Stone." They are believed to be the southern-most pair of crocodiles to breed in an outdoor enclosure in the world.
By Santi Ivar