NEWS
"Spy Police" with HD cameras for Bribane G20 meeting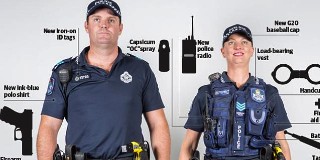 07/09/2014
The highly trained officers keeping the peace during G20 meeting in Brisbane next month of November will wear tiny spy-like cameras, to record their work and keep the city safe at the global reunion.
The lightweight, miniature HD video cameras will be clipped to the officers' uniforms to record potential evidence during November's summit. According with the information given by The Courier-Mail, there will be 70 high-definition cameras used by frontline police in those days.
"It's good for Police. It makes it difficult, if not impossible, for false complaints to be made against police. It's good for people arrested because it presents reliable evidence to the courts," he told Fairfax Radio on Friday. It saves a lot of time because pictures don't tell lies." commented Australia Council for Civil Liberties president Terry O'Gorman
Police Minister Jack Dempsey confirmed the officers would be connected to the Public Safety Response Team (PSRT) and Mobile Response Team. "We're equipping Queensland police with the best technology for G20 to ensure the safety and security of all attendees'' Mr Dempsey said.
The Queensland Police Union welcomed the rollout after raising concerns about some officers being forced to pay for their own miniature cameras. "Body-worn cameras are the modern equivalent of the police notebook,'' Union president Ian Leavers said.
These devices, which were also adopted in the UK and the US – would add to the growing arsenal of hi-tech equipment being used by police. And also a special area will be created to store data taken from the cameras, and safeguard its security. The 70 cameras will be "redeployed" back into normal policing operations after the G20.
The 2014 G20 Leaders Summit the most important event in the G20 year, and will be held on the 15th and 16th November in Brisbane. This will be the most significant meeting of world leaders that Australia has hosted with as many as 4000 delegates and 3000 media representatives expected to attend.
By Sntiago Ivar
Sources: