NEWS
RED Taylor's version- Now we begin again
Photo: preview.redd.it
By Valeria Lasso

14 November 2021
Nine years ago, Taylor Swift had just released her latest breakup - Red. It was her first country and pop crossover and it was a hit. Featuring songs like We Are Never Getting Back Together and I Knew You Were Trouble which during their peak managed to reach 1st and 2nd positions in the US Billboard hot 100. The album received Grammy nominations for Album of the Year, Best Country Song (Begin Again) and Best Country Album.
Only two days ago, Taylor released a re-recording of the album called Red (Taylor's Version), and in only a day she broke two of Spotify's records, one for the most-streamed album in a day by a female and the one for the most-streamed female in a day.
The former release included 16 songs, but in her re-recording she has 'opened the vault', bringing forward nine new songs and featuring collaborations with Ed Sheeran, Phoebe Bridgers, Chris Stapleton, among others.
Taylor has also included the complete version of her famous song All Too Well (10-minute version) which is almost double the time of the original track featured in her first Red release. This track includes new verses and bridges and a completely different outro, and as if that wasn't enough she also released a short film to go with it, staring Sadie Sink and Dylan O'Brien (who btw have the same age gap as Taylor and Jake Gyllenhaal when they dated).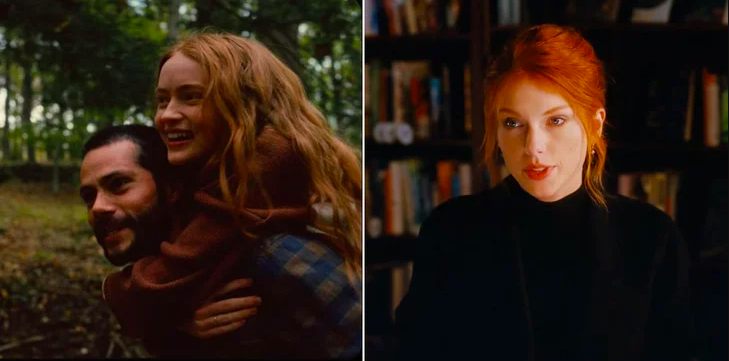 Photo: media1.popsugar-assets.com
The media response from the album has been outstanding and the fans have taken to the internet to fuss and fangirl over the new and old bangers, as well as to throw some healthy shade over Jake Gyllenhaal, who has most probably gone into hiding.
Red (Taylor's Version) is the second album that she has re-recorded, preceded by Fearless (Taylor's Version). Taylor is on a journey to re-recording her first 6 albums which were sold by her former manager Scooter Braun for what is estimated to be about $300 million without her consent. The actions she is taking are in hopes of finally owning all the rights to her music so that it can never be sold or used without her consent again.
On the day of the release, she shared a photo from the new cover shoot of Red with a caption thanking her fans for encouraging her to re-record her music.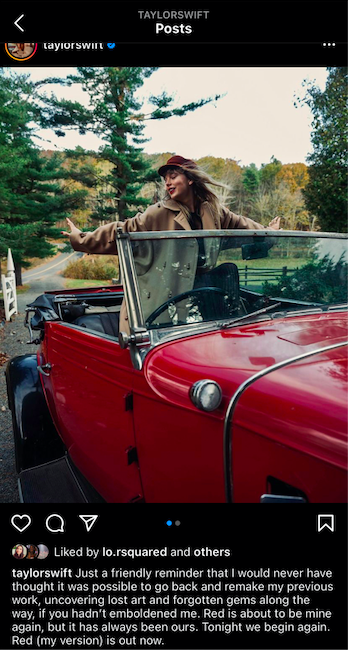 photo: Instagram Screenshot
It's safe to say her fans cannot wait for the re-recordings of the rest of her albums.
Have you listened to Red (Taylor's Version) yet?
Let us know in the comments.