NEWS
Shakira wowed Brazil's crowd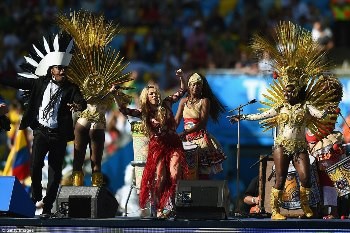 07/15/2014
In a winning World Cup closing ceremony, joyful enough to cheer up Brazilian fans mourning the performance of their national team, Shakira wowed the crowd with her performance of "Dare (La,La,La)" in Rio de Janeiro.
The Colombian was wearing a sexy and revealing red dress, with sequined straps and lots of fringe, allowing her to flaunt her gorgeous curves for the performance. She sure showed off her most sizzling moves EVER before the final match between Argentina and Germany. Before Germany defeated Argentina 1-0 to win the World Cup, Shakira rocked the stage!
While singing "Dare," Shakira beat on a Carnaval drum, danced alongside Samba shakers and performed with tons of talent, including Carlinhos Brown and Brazil's famous Ivete Sangalo. Shakira was immediately followed by Santana, Wyclef and Alexandre Pires, who gave a spirited live performance of the official World Cup anthem "Dar Um Jeito (We Will Find a Way)."
A roar went up in the stadium at the end of the 20-minute show, which came before the final match. As a finale, all of the artists danced together on the field, Shakira holding her toddler son, Milan.
By Adriana Rueda
Source: www.Billboard.com
Image: www.hollywoodlife.com