NEWS
The Original Brazilian Jiu Jitsu in Melbourne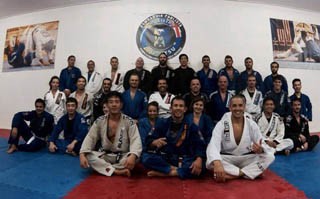 Jiu Jitsu in the heart of Melbourne
If are you looking for a good option to become fit and learn self defence, Brazilian Jiu Jitsu classes are a great otpion. The Martial art which, was improved by the Gracie family in the XX century in Brazil, has one of the best Jiu Jitsu Academies in Melbourne Australia.


Located in the CBD, close to the Southern Cross train station, the headquarter of the CIA Paulista Gym is open from monday to saturday. Representing the CIA Paulista Team, Carlos Portugues Viera, 37, a Brazilian Jiu Jitsu Black Belt and 2x Pan American Champion who moved to Australia in 2009 and started to build one of the most successful Jiu Jitsu teams in the country.


"Back in 2009, when I started to teach Jiu Jitsu I didn't have my own gym and space, I use to teach in other gyms. Nowadays, we have more than 13 units around all Australia and hundreds of students, including Australians and also Brazilians", Carlos explained to Gringo Media.


Last Sunday, 29 of June, the CIA Paulista team received Roberto Tussa, a Brazilian black belt and 2x World Champion No GI in the headquarter for a series of seminars, showing techniques and new movements in Jiu Jitsu. " It is the second world champion to visit our gym. It was good to bring the best to our headquarters", he said.


Carlos thinks that the jiu-jitsu is the most democratic martial art in the world and it is made for everyone. " Jiu Jitsu is for everyone, man, women or kids. The first class is free and we also have a sparring GI, so you don't need to buy a new GI to try our first class", Carlos explained.


By Valter Ribeiro