NEWS
Interpol investigates woman's disappearance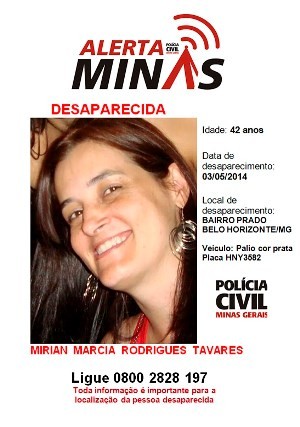 The woman is a Lieutenant of the Aeronautics and has depression
Since May 3rd, the Lieutenant of Aeronautics in Varginha (MG - Brazil), Marcia Mirian Tavares, 42, is missing. Interpol, the International Criminal Police Organization, has made an international alert to find her in airports and elsewhere, as she left the car, a dark grey Palio, and could have gone to any country that borders Brazil. Her disappearance culminates with the state of depression in which she lies.
According to the family, Mírian had left home with only the clothes and the car of her property. Before that, she made a deposit of R$ 30.000 for her sister. The disappearance was discovered two days later, when a friend who shares the apartment with the lieutenant found a letter saying she would go to the road. From there, helicopters and Air Force Civilian Police conduct investigates her whereabouts.
"The feeling of anxiety is the lack of lanes about Mirian is very large. I'm with her laptop and cell tracking, in an attempt to find something," said the brother of Lieutenant, the journalist Pérsio Tavares.
By: Deise Cavignato