NEWS
Jailed Journalist's family stands strong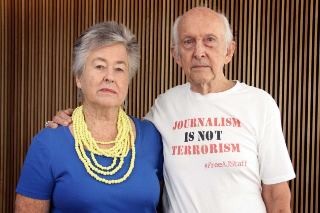 "Journalism is not Terrorism" : Greste's Family
Brisbanites, Lois and Juris Greste are dealing with the devastating and questionable imprisonment of their son, journalist, Peter Greste in Egypt.
In Cairo on Tuesday Greste was sentenced to seven years in jail for supporting and colluding with a blacklisted Muslim Brotherhood. Egypt's president has shunned protests against the sentence vowing not to "interfere in court verdicts."
There is an international diplomatic consensus that advocates Greste's innocence and questions his offences as being unsubstantiated. Australian P.M, Tony Abbott has contacted the Country's leaders twice to lobby for Greste's release, and the strength of his backing, and the support of the international community has heartened Greste's family who resides in Brisbane.
The Grestes made an impassioned announcement to Australian media on Tuesday in response to the sentencing, proclaiming their son's innocence and describing Greste's plight as a ""slap in the face and a kick in the groin to Australia".
Juris Greste said "We are devastated, shocked and dismayed at this finding. "This man, our son Peter, is an award winning journalist, he is not a criminal."
The Grestes have vowed to continue protesting his imprisonment and its implications for freedom of the press in all countries. "We have to fight for Peter, for his colleagues and for the sake of media freedom."